Every week at the Lab Report we're collecting the latest news and info on developments with the Green New Deal. For more news right to your inbox, be sure to sign up for emails and updates below. Here's the top Green New Deal news from the week:
#1: The left is pushing Democrats to embrace their greatest president. Why that's a good thing. 
author: Lawrence B. Glickman source: Washington Post
After nearly 30 years of conservative economic ideology as the predominant narrative for both political parties, Democrats have finally started to have a change of heart. With a nod to the government directed programs of FDR's New Deal and more, Lawrence Clickman writes about how some Democrats are embracing their most influential leader.
"Nearly a century after President Franklin D. Roosevelt began his effort to revive the American economy through government programs, Democrats are once again becoming fans of Roosevelt and his legacy. That should come as no surprise: The nation's longest-serving leader, Roosevelt presided over the New Deal and waged the successful World War II fight against global fascism. His New Deal laid the groundwork for the economic boom that made the United States the envy of the world in the postwar decades, and it provided the impetus for the civil rights and Great Society reforms of the 1960s. Roosevelt helped forge a coalition that made the Democratic Party dominant for almost half a century and left a lasting legacy, including programs that remain strikingly popular today, such as Social Security."
#2: Elizabeth Warren Is the First 2020 Candidate Who Won't Take Money From Fossil Fuel Interests
author: Justine Calma source: Grist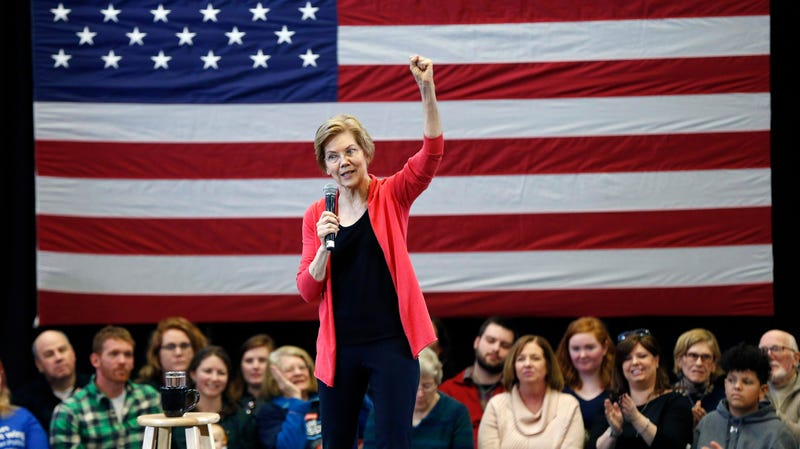 Last week activists approached Elizabeth Warren at a campaign event in New Hampshire and asked her to sign a pledge not to take fossil fuel money during her presidential campaign run. When she did, she became the first 2020 candidate to take the pledge.
"It's becoming increasingly clear climate change will be one of the defining issues of the Democratic presidential primary. Candidates have staked out positions early on, including Warren who has said through a spokesperson that she "supports the idea of a Green New Deal." Signing onto the no fossil fuel pledge is an even bigger step toward staking out her position."
#3: The 'Green New Deal' started with six angry college grads. Now, they're recruiting an army of young people.
author: Carolyn Beeler source: PRI
In a show of force last November, 1000 young people flooded into newly elected Majority Leader Nancy Pelosi's office demanding a New Green Deal. With that act they started a political fire that is quickly making its way to becoming a centerpiece of the Democrats 2020 presidential campaign. Carolyn Beeler traces the roots of the fledgling Sunrise Movement back to six activists who were fed up:
"The concept of a "green" version of the Depression-era, New Deal policy has been floated by everyone from The New York Times' Thomas Friedman to the United Nations over the past decade or so.
But in its current form, it's the brainchild of the Sunrise Movement, a youth activist group that's been working with Ocasio-Cortez since before she got elected.
Sunrise was founded about a year and a half ago by six recent college graduates, veterans of organizing climate campaigns from their campuses.
"All of us were feeling this sense of unease and frustration that the hurricanes were getting bigger, the fires were getting bigger … but our movements weren't growing with them," said Varshini Prakash, one of Sunrise's six co-founders, who organized a successful fossil fuel divestment campaign at the University of Massachusetts Amherst."
Green New Deal in the Statesstate & local news on the Green New Deal
#4: Green New Deal' isn't radical. It's a natural for Texas' wind, solar energy [Editorial]
author: Editorial  source: Houston Chronicle
"A new Rice University study points out that Texas' environment — which produces sufficient wind and solar power — is ideal to greatly reduce the state's reliance on fossil fuels. The report should open politicians' eyes to the potential for a Green New Deal to boost the nation's economy by creating alternative energy jobs. The Rice study said with better integration of the state's wind and solar resources Texas would no longer need coal, which currently produces about 25 percent of the state's electricity. Natural gas generates 45 percent. "Wind and solar are easily capable of picking up the slack," said Dan Cohan, co-author of the study."
author: Will Bredderman source: Crain's New York
"Last month Cuomo held an event previewing the "first 100 days" of 2019, evoking both his gubernatorial predecessor Franklin Roosevelt's earliest months in the White House and the span before the start of the new fiscal year on April 1. It wasn't the only borrowed slogan of the morning. He also promised a "green New Deal," a phrase copped from newly minted Rep. Alexandria Ocasio-Cortez, who got the term from the Green Party. The governor vowed to make New York's electricity 100% carbon-neutral by 2040 and ultimately eliminate the state's carbon footprint. Given his hostility to nuclear power, it is unclear how the governor will achieve those goals. It is possible he simply will seek to expand the offshore-wind, electric-vehicle, solar-panel and grid-improvement programs he championed in his first two terms."